ALAMINOS CITY, Pangasinan—In continuation of the Provincial Government of Pangasinan's project, through its Provincial Tourism and Cultural Affairs Office (PTCAO) entitled, "Tongtóngan: The Governor's See Pangasinan Listening Tours," Governor Ramon V. Guico III, alongside local officials, joined the Pangasinan Tourism Officers Association (PTOA) for their third general assembly held at Quezon Island, Hundred Islands National Park in Alaminos City last September 23, 2022.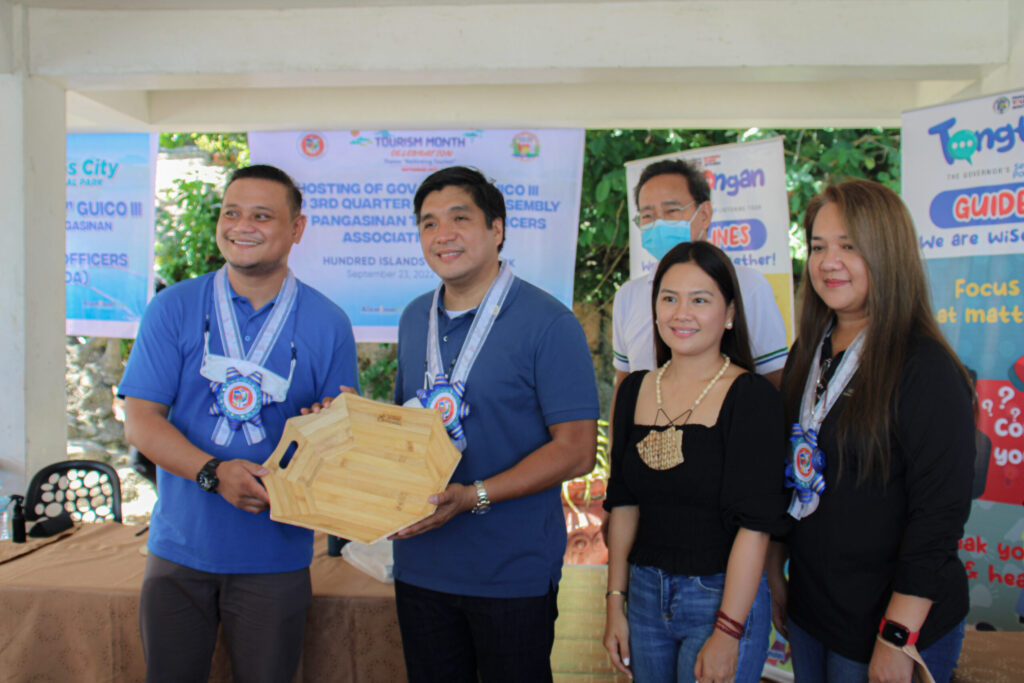 While the first Tongtóngan tour in Natividad saw Governor Guico sharing an exchange with farm tourism stakeholders, the second tour saw him listening to the concerns of PTOA members. Coincidentally, this is the first PTOA general assembly since after local elections and the first time that Governor Guico will be meeting the association.
Along with Governor Guico were Board Member Marinor B. De Guzman (Chairman for Committee on Tourism, Foreign Affairs and Migrant Workers Concerns), Alaminos City Vice Mayor Jose Antonio Miguel Y. Perez (representing Alaminos City Mayor Arth Bryan C. Celeste), Dasol Mayor Rizalde "Sadong" J. Bernal, Alaminos City Councilor Carolyn D. Sison, and other local officials.
After the welcome remarks delivered by PTOA President and Balungao Tourism Officer Cromwell M. Hernandez and the activity orientation by Provincial Tourism and Cultural Affairs Officer Maria Luisa Amor-Elduayan, Vice Mayor Perez passed along Mayor Celeste's message, highlighting Alaminos City's goal to become a tourism hub by 2030, during which they envisioned an airport to be constructed in the city in order to cater to tourists and travelers from Visayas and Mindanao. Meanwhile, Board Member De Guzman shared that while it was her first time to travel to the Hundred Islands National Park, it was amazing to her that Pangasinan is indeed blessed to have not only a beautiful mountainside as she mentioned in Natividad during the first Tongtóngan tour, but also pristine and world-class islands and beaches as seen in the national park.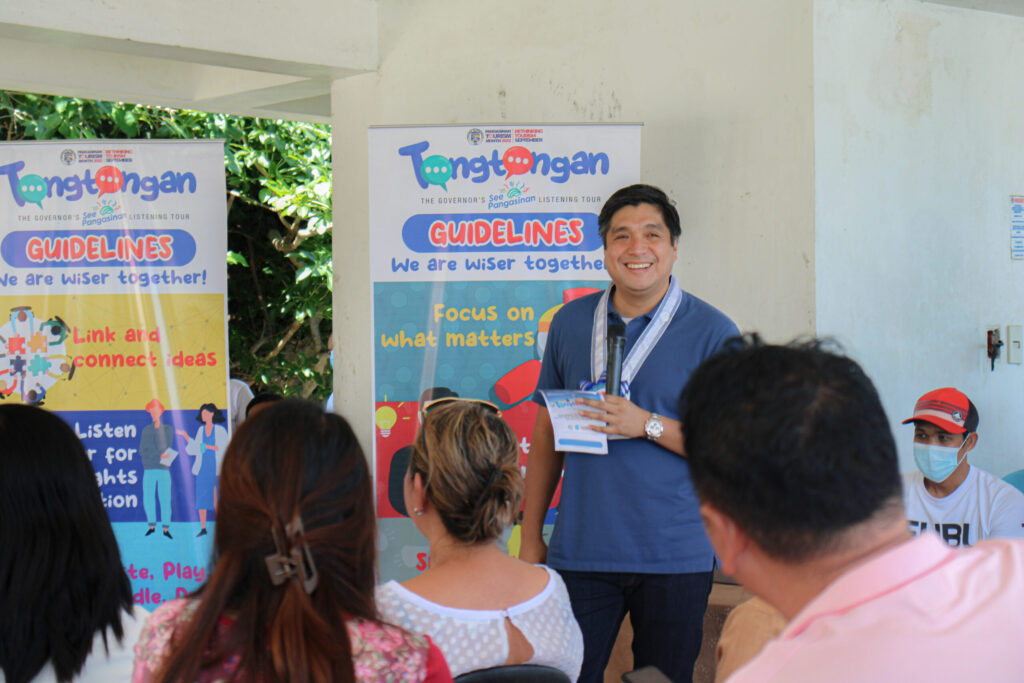 "Tourism will be a priority industry of Pangasinan," Governor Guico reiterated during his speech, having consistently mentioned this since his inauguration as governor last June 29, 2022 and adding his vision for Pangasinan to be a premier province worthy of international recognition. He also called for PTOA to "Be creative" in their effort to boost tourism in their respective towns and cities, emphasizing the importance of history, culture and arts as tourism products. A list of recommendations he offered to PTOA included prioritization of preservation of destinations as well as championing sustainability and a green environment, better facilities and trained staff, and construction of public parks to introduce individual town's and city's history and culture, among others.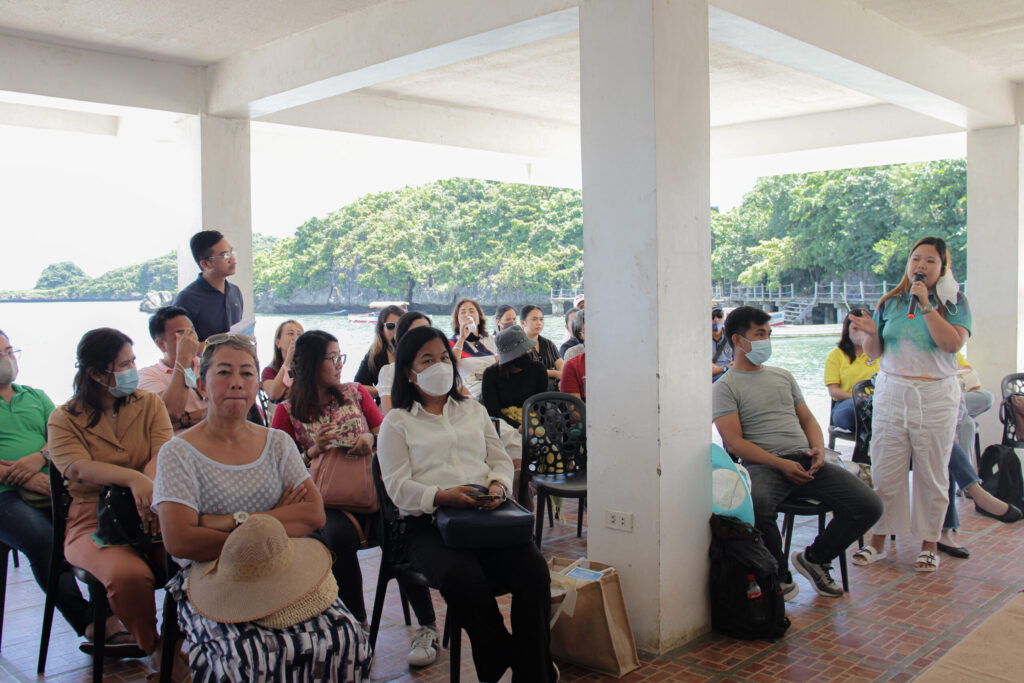 Bolinao Tourism Officer Mary C. De Guzman raised concerns such as lack of tourism facilities like restrooms and water sports tourist hub as well as their plans to construct a tourist rest area inspired by that of the Department of Tourism. She also underscored the importance of having a Tourism Code to put into perspective each town's and city's tourism-related plans. In true spirit of camaraderie, Ms. De Guzman likewise invited new PTOA members to consult the association's older members should they need assistance in their respective tourism endeavors. Afterward, San Carlos City's designated tourism officer Ruby Ballesteros shared plans to improve promotions for the city's bamboo industry as well as for the recently declared Minor Basilica of St. Dominic de Guzman Parish. Meanwhile, in relation to the issue of lack of plantilla items and permanent positions for tourism officers, San Fabian Tourism Officer Jonathan C. Gacosta expressed his concern for the discontinuity of tourism programs caused by the possible transition of local chief executives. Aside from that, he shared San Fabian's plan to put up a Visitors Assistance Desk at the San Fabian Beach but also their need for tourism vehicles for better transportation of their tourists. Another concern was raised by Dasol Tourism Officer Guendolin C. Bustamante as she asked Governor Guico and accompanying officials about the shortage of salt in the province as Dasol is known for its vast salt farms with salt being one of their town's known tourism products.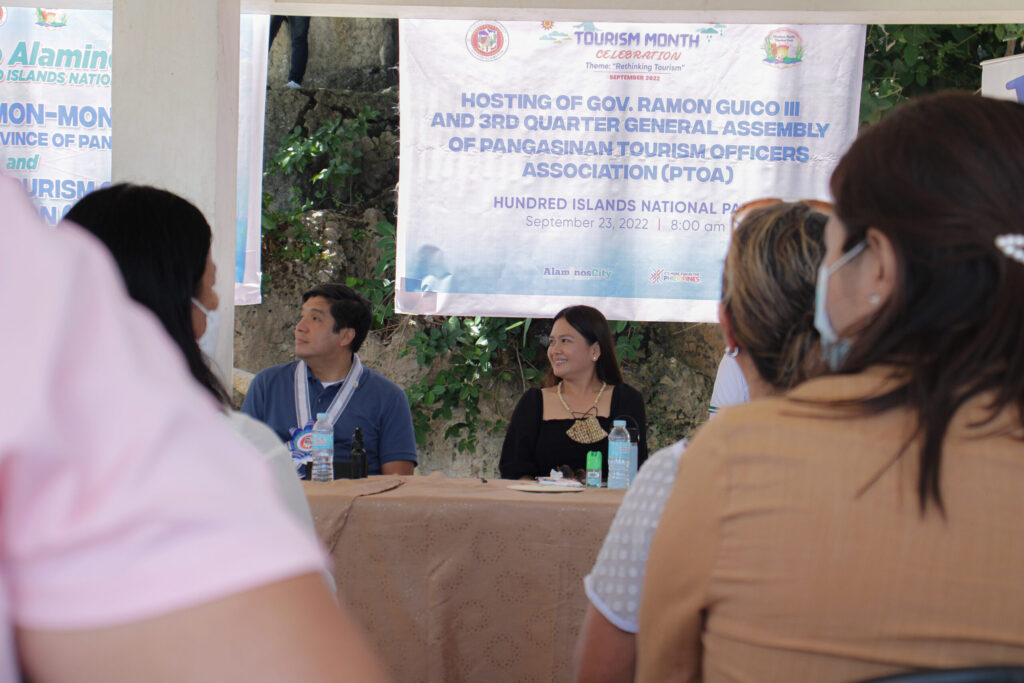 To all of these concerns, Governor Guico and the officials present provided their insights and suggestions such as the capitalization of history and culture in Bolinao and San Carlos City, the improvement of public markets where tourists can learn about a specific area's gastronomy tourism and where they can readily purchase pasalubong, the construction of convention centers near tourism-related establishments for the maximum utilization of these, capitalizing on the utility of bamboo that would likewise generate work for locals and the practice of bamboo propagation for sustainability. Governor Guico also discussed to the participants that the provincial government of Pangasinan had given the Center for Pangasinan Studies ample budget to conduct research on Pangasinan's salt industry and the feasibility of the construction of an "Asin Center" for continuous learning of salt not only for academics and concerned stakeholders such as local salt farmers, but also for interested tourists and travelers.
Governor Guico called for the assistance of Board Member De Guzman as well, particularly in the formulation of a legislation that would require local chief executives to create plantilla items for their tourism officers in reference to Republic Act No. 9593 or the Tourism Act of 2009, which recognizes "tourism as an engine of investment, growth and national development."
The successful dialogue concluded with Governor Guico assuring the PTOA members of his full support for their future projects and programs that will enliven and strengthen tourism in their respective towns and cities.
As part of their general assembly and to be acquainted with the new members of PTOA, Alaminos City Tourism Officer Miguel L. Sison prepared a short tour for the members that saw them visiting the well-known Pilgrimage Island and trying out various activities available on Quezon Island.
/MCDG
Photos: KFC