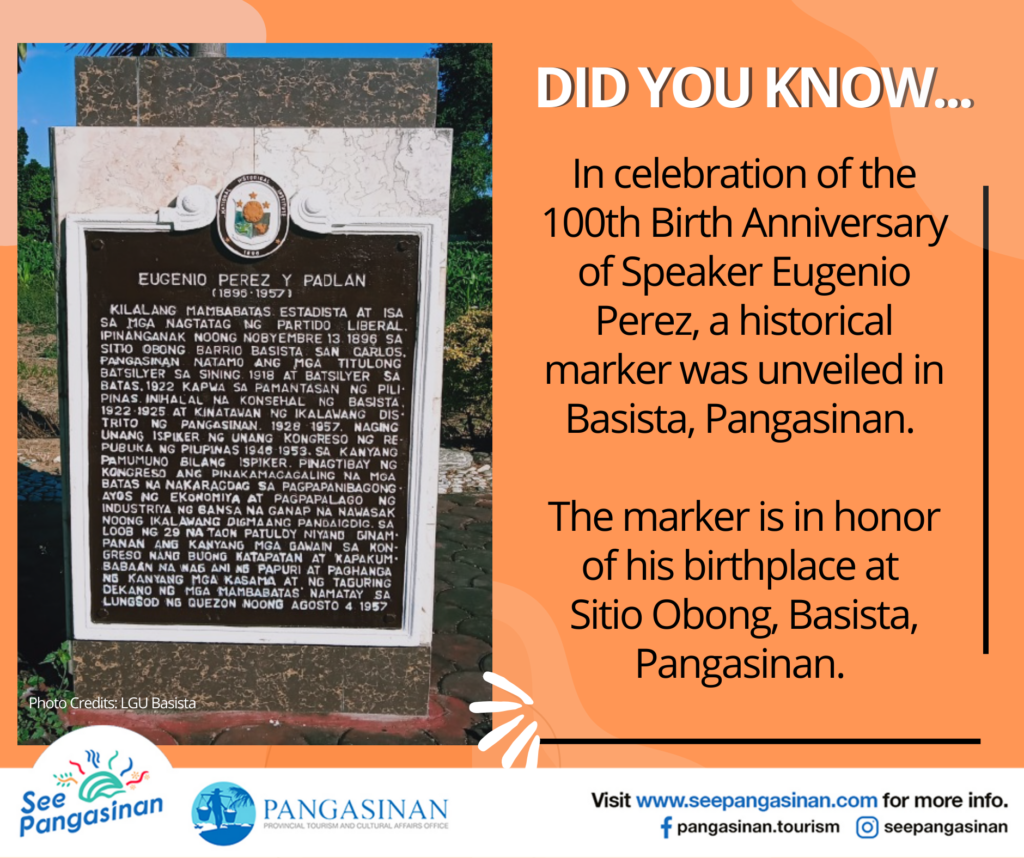 This historical marker by Eugenio Perez is located in Brgy. Obong in Basista, Pangasinan where he was born. This marker was put up in 1996 by the National Historical Institute (forerunner of the National Historical Commission of the Philippines or NHCP). Eugenio Perez is the first Speaker of the House of Representatives in the first Congress of the Philippine Third Republic. One of the most notable laws he passed is Republic Act No. 170 making Dagupan a city. 
If Obong is in Basista, chances are you may have heard before that Perez hailed from San Carlos (then a municipality). Why is it so? 
In the book "Eugenio Perez 1896-1957: First Speaker of the Philippine Republic," Conrado F. Estrella, Sr. recounted the time in 1957 when he bumped into Perez in Basista of which its major part was then under San Carlos. Estrella was then the Governor of Pangasinan while Perez was the Representative of the Second District of the province in the House of Representatives. Here, Perez remarked, "Conrado, people here are aspiring to make Basista a municipality." The petition to make Basista a municipality has long been fought for since 1918 but was always rejected. Estrella replied that he wanted to consult Perez on the matter. Perez then said, "If it is the wish of the people, it is okay with me, to hasten the progress of this place." 
Governor Estrella endorsed in 1960 the petition to President Carlos P. Garcia who then issued Executive Order No. 446 dated September 5, 1961 creating the Municipality of Basista composed of 10 barangays (including Obong) from San Carlos, two from Bayambang and one from Malasiqui.  Obong, therefore, that was once under San Carlos became a part of Basista. 
However, this executive order was declared as void by the Philippine Supreme Court some time later, citing the ruling on "Emmanuel Pelaez vs. Auditor General" that "municipalities created under Executive Orders are void." 
Subsequently, Jack Laureano Soriano, then the Representative of the Second District, passed Republic Act No. 4866 declaring Basista as a duly constituted municipality. It was approved on May 8, 1967. 
Sources: 
Municipality of Basista. Basista Cultural Heritage Mapping. n.p.: n.p., 2022. 
Eugenio Perez Foundation. Eugenio Perez 1896-1957: First Speaker of the Philippine Republic. n.p.: Paradigm Printers, 1996. 
Official Gazette of the Republic of the Philippines. "Executive Order No. 446, s. 1961." Accessed July 19, 2022. https://www.officialgazette.gov.ph/1961/09/05/executive-order-no-446-s-1961/. 
/JDV
Photo by: LGU Basista
Image by: MBRR